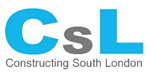 A new project that will help people pursue careers in construction is coming to south London.  
Launched by the South London Partnership, the South London Partnership and Partners Mayor's Construction Academy (MCA) Hub, known as Constructing South London, will support people and businesses from Croydon, Kingston upon Thames, Merton, Richmond upon Thames, Sutton and Wandsworth connect to construction skills training and construction jobs in the area. The project aims to increase opportunities for groups less represented in the construction sector, including ethnic minorities and women, and will focus on green construction skills in response to the climate emergency. 
Funded by a grant from the Mayor of London, Constructing South London will work with construction employers to understand future skills needs and pinpoint work experience, apprenticeship, and job opportunities available to south Londoners. It will also help employers to work with schools and colleges to highlight career opportunities in construction.
A wide range of training providers have already signed up to be key partners of CSL, including South Thames Colleges Group, Croydon College, Kingston University, Richmond College, Simian Risk, and Training and Recruitment Partnership.
The construction sector is a major contributor to the South London economy and will help the area bounce back after the challenges of the pandemic. Before COVID-19, construction accounted for 5% of jobs in south London and generated some £2.2 billion for the UK economy.
Constructing South London will launch with a series of webinars on week commencing 21st June to help people connect to jobs in the construction industry.
22nd June, 2pm: Women into Construction – find out more about working in the construction sector, with information about how to access live job vacancies and training opportunities. Join us here: https://www.eventbrite.co.uk/e/156722157191
24th June, 7pm: Busting the Myths in Construction – aimed at students, parents, carers or anyone who would like to find out what it is really like to work in construction and explore the breadth of opportunities available in the sector. Join us here: https://www.eventbrite.co.uk/e/157219546897
Councillor Gareth Roberts, Leader of Richmond Council and Chair of the South London Partnership, said:
"I very much welcome the creation of Constructing South London. The construction sector is vital to our boroughs in delivering new homes, buildings and infrastructure to help keep vital and help regenerate areas, and as a significant source of jobs.
"As we seek to support economic recovery for our residents and places after a challenging year of COVID-19, I'm pleased at the commitment of a range of partners from businesses, training providers and boroughs to make South London more resilient and a better place to live, work and visit. I also welcome the construction sector stepping-up to the challenges of building more sustainably and diversifying its workforce – this could not be more timely."
Sam Eden London Director, Federation of Master Builders
"The Federation of Master Builders have always championed the fantastic opportunities available to young people thinking of taking up a career in construction, and now with the skills crises following Brexit and Covid-19, that message is even more poignant. We welcome the work of the South London Partnership to support schools, colleges and training providers to deliver affective pathways in order for young people to be ready to thrive in a sector filled with opportunity."
Peter Mayhew-Smith, Group Principal and CEO South Thames Colleges Group
"At South Thames Colleges Group, we're delighted to see the Mayor's Construction Academy hub opened up in South London and are very keen to play our part in promoting the Construction sector for our students and partners. The opportunities in Construction are very positive right now and the chance to shape the future, focusing on recovery and new jobs for green Construction techniques, is wonderful. Our staff and students will be keen to get going and become part of a new emphasis on careers in this vital sector."
If you would like to join one of our webinars or if you would like any further information about Constructing South London, please contact Peter Walsh, mcahubmanager@southlondonpartnership.co.uk, 07974 586556
Follow us on Twitter: @ConstructingSL
Follow us on LinkedIn: Constructing South London